St Elmo's Fire
Saturday, July 14th, 2007 9:58 PM
Growing up, I've heard a lot about St. Elmo's fire and have often heard the Jack Parr song so when the opportunity came to review the film and disc for this site, I took it. I was hoping for a gem I'd missed all these years and surely because the name was so familiar to me, it had to be a classic. Unfortunately, I could not complete the review. Some time into the film, the actors all broke out into song, and Rob Lowe started playing the saxophone. I stopped the disc. Was it because I couldn't identify with the so-called brat pack? It's true that I've never felt more alienated from a group of characters but this is not the reason I couldn't continue. Individually, I've enjoyed performances from each of the actors in this film. It's just that everything seemed hyperbolic. The characters were exaggerated stereotypes and rather nasty and the disorganized story provided little reason to continue watching them. The 80s never seemed so 80s. Rob Lowe was wearing eyeliner, dammit! I've had this sensation before, when I saw the Lost Boys a few months ago for the first time. So, faithful readers, I cannot complete this review. It's probably the only movie I've stopped because of sheer disgust, and I've seen plenty. As for the disc specs, the movie was anamorphic, and from what I saw the picture seemed pleasingly enough for a catalog release. Audio was Dolby 4.0 and was front centric. I never made it to the supplements. But if you want to be really self destructive, this disc can be had on the cheap. Frankly, I think all copies should be burned. I'm shaking as I write this and I don't know why.
UPDATE: I just found out that Joel Schumacher directed both films (the Lost Boys and St. Elmo's Fire). I don't know what it is about his films that make me react so viscerally against them. I almost turned off The Lost Boys when that muscled-longhaired oiled-up lead-singer from a rock band entertained beach goers. Like I said the 80s were never that 80s. I'm sure there are positive aspects to his films to be found somewhere. It's just that I'm not willing to look for them.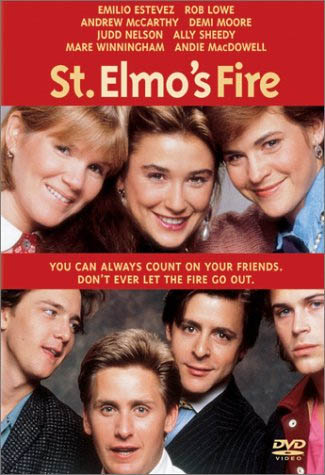 ---
commenting closed for this article