Frasier – The Complete Final Season
The wise folks at Paramount have decided it best to release the final season of Frasier before the 4th Season was released. This, they reasoned, was a strategy designed to keep the finale of the most successful spin-off ever fresh in people's mind. I love Frasier, and for most of its run, I considered it to be the wittiest show on TV, but this decision had me scratching my head. When the set was finally released, I'm even more puzzled than before. Why treat the final season of a great show so poorly?
First, this set should have been released in 16:9 anamorphic widescreen since the show aired in HDTV for the last two seasons. When the set was first announced, the rumors indicated that this may have been the case. Unfortunately for us, those rumors turned out to be untrue. Almost every TV show that's aired in HDTV has been released widescreen on DVD. A Paramount representative mentioned that the reason it may have been released in 4:3 was to keep it in line with the other Frasier sets which were released on DVD as they aired on TV—in 4:3 full-frame. This strikes me as a bullshit reason. Firstly, because other TV shows like the X-Files or CSI, who started their run in 4:3 and were later aired in HDTV, were released on DVD in keeping with their original broadcast ratios. Secondly, the set has the markings of a rush job (see below) and I think the aspect ratio was part of it.
There are essentially no special features on this set, except some interviews with the cast that are essentially worthless. Also not present on this disc is the great clipshow that aired before the finale that featured Frasier on the couch reminiscing about his days in Seattle. That, at least in my opinion, seems like the first thing that should have been on this set. A retrospective documentary would have been nice touch too, but alas is also not here.
I ended up getting this set because it was on sale during the first week of its release and because I owned every other season released and wanted it for completeness. Unless you have similar reasons, stay away from the final season of Frasier until the folks at Paramound get it right, which is an admitted longshot.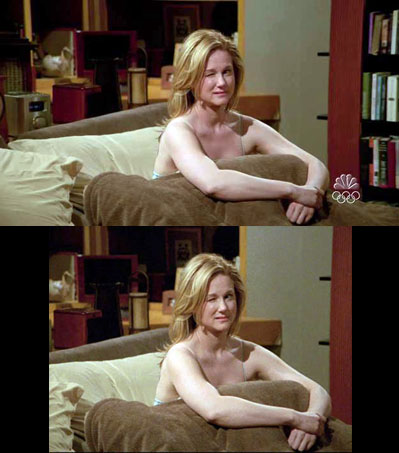 ---
commenting closed for this article